MADE
MADE: Design furniture at an affordable price
This is the premise of MADE.COM. An online furniture sales company based in London and present in the main cities of Europe.
Its collections, mainly retro in style, seek timelessness, resulting in pieces that can decorate your home for years without going out of style. They have a complete and attractive catalog of original furniture and decoration items.
At MADE they work directly with independent designers, which allows them to offer better prices by not having intermediaries. All their pieces are designed to last for many years. Quality handmade pieces which are also resistant and functional.
MADE Furniture = Responsible Design
At MADE they defend and work for responsible design. They make furniture on demand. Besides, the direct contact with furniture manufacturers allows them to ensure that they meet the proper working conditions for their workers. They are also a committed company that takes into account diversity and inclusion in their organization.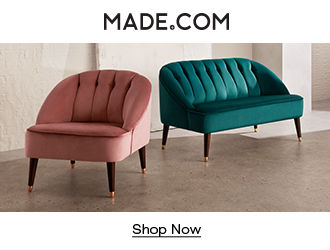 You can buy MADE furniture online, they ship to the United Kingdom, Northern Ireland and the Republic of Ireland. Keep in mind that as they make the pieces of furniture on demand, the delivery times might be a little higher.
In its extensive and wonderful catalog you will find sofas, chairs, armchairs, tables, benches, beds, headboards, sofa beds, desks, lamps or rugs, among other furniture and decoration items.
FILTERS:
---